Goooood afternoon mah lovies
How are ya?!
I am sweepy weepy. Mostly because I couldn't sleep last night (hello it's nearly impossible without A/C…I know I know can't take me anywhere ;)), and then woke up at 7:30 to pick up my best gal pal for some breakfasting.
Yes I just made that into a verb.
Anywho, I picked her up at the buttcrack-of-dawn (aka, 8 am) and we had Girl Talk until we got hungs. The belly never fails to be honest, and honesty is the best policy.
Omelet time it was.
Oh, and I guess it's WIAW time since I actually ate one of these today? Love you Jen, I'm sorry this is the first time I'm participating but hey, a girl's gotta do what a girl's gotta do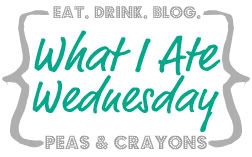 Since I didn't get any pictures of our ugly a** omelet, I'm going to use a picture of the dinner omelet I had with Lisa last week. Ohhhhmahlawd next time you make an omelet, MAKE THIS ONE.
Best Omelet Ever
Ingredients:
3 free range, organic eggs
sea salt and pepper to taste
1 broccoli floret
a handful of chopped onion
7 grape tomatoes
free-range, pastured butter (or extra-virgin coconut oil)
crumbled goat or raw cheese, or a drizzle of

cashew cheese
Directions:
Heat a skillet over medium-high heat and add your butter/coconut oil.
Chop up your veggies as the skillet heats up, and then add to the pan and saute until softened.
When fully cooked, remove and place them in a separate bowl.
Crack your eggs and put them in a small bowl. Whisk together with sea salt and pepper to taste.
Pour your eggs into the pan (with more butter if necessary), and allow to cook for a small amount of time, or until the bottom starts to firm up.
Add your veggies and cheese to the omelet and allow to cook most of the way through.
Scrape the edges (gently!) and flip one half of the omelet over the other. Allow to cook for another minute or two, until fully cooked.
Plate and serve with more cheese crumbled or drizzled on top.
Major props to Lisa for concocting this bizznatch. The one I made this morning was the same, except it was filled with garlic dill goat cheese instead of the cashew cheese. They are both equally delicious.
Feel free to change up the veggies and cheese — get crazaaaay! This would be so good with some sauteed red onions and peppers.
This sucker kept me full for a straight 5 or 6 hours. Yeeeeuhhhh
Dinner was a Cookie Dough Bowl, had after my afternoon workout which was notttt the best I eva had. Kind of a flop. I think my body was telling me I needed a rest day but I was kind of all, HA jokes on you buddy, we're gonna sweat today!
Yeah don't try that method it's useless.
I got them mooooves like jagga!
Also, thank you for all of the congrats on my new job!! I am SO excited, and I know my employers are too. I can't wait to get mah cook on.
I will prepping a brunch next Sunday for about 150-200 people (not by myself of course — I'll be the sous chef), so tell me…
If you were going to a brunch before a religious service, what food would you want to be served?
I'd love to hear your input!!
xoxox,