I feel so dang helpless today, friends.
I've been watching all of the news about the storm. Sandy's devastation. The homes destroyed. Sisters of mine whose towns have been completely washed away. People with no clothes, limited food, unable to see their families or recover old photos.
I want to help. I want to help so, so bad. And I'm stuck here. All because of classes that need to be attended; work that needs to be done.
My heart is constantly breaking, just like when I went to Nicaragua years ago. You see people in such pain and suffering, and want to help them so badly, but there's only so much you can do at an arm's reach. I went twice, and couldn't go a third time. I hope to go again, but at the time it was the hardest thing I've ever done to simply sit still and accept that there was nothing I could do. No way I could get there, and no way I could see the faces of the people I had helped two years in a row. I was helpless.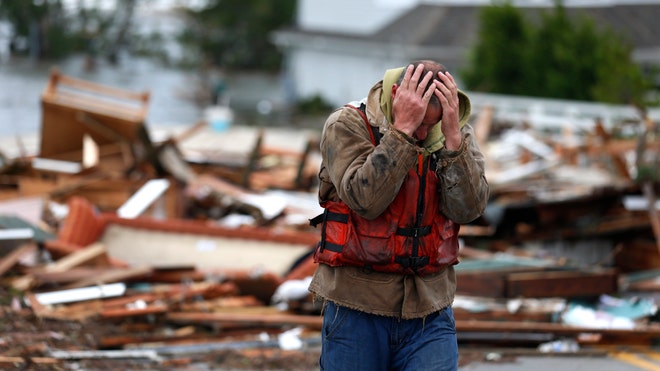 Now, I'm looking for any and every way possible to help the people who were devastated by the storm.
It's easy to make jokes about Sandy. For those of us that weren't affected, especially. But it's not funny. Not funny in the slightest.
So, Thursday, after my last class, I'm going somewhere…. anywhere on the East Coast, to help the people who are suffering. Who don't have access to food, water, shelter, and clothing. The people that, more than anything, need assurance that it's going to be okay.
This image is not an indicator of my political preferences. We don't talk politics here unless someone does something really stupid.
If I were in a situation where I lost everything, the first thing I would want is a hug. And then I would want something nourishing.
So, if you're in Upstate NY, or anywhere near Syracuse, please donate clothes, non-perishable food items, and anything you can think of that you can donate to those in need. Please drop it off at CrossFit 315 (or shoot me an email and we will find a way to switch hands). We will be taking anything and everything donated down to the people that need it most.
My heart goes out to all of you affected, those of you with family members and loved ones affected, and anyone who doesn't have access to healthful food, clean water, warm clothes, and a roof over their heads.
My heart hurts so dang bad.
I love you guys. Donate, donate, donate, even if it's not to me. The Red Cross has an amazing operation going that is helping so many people. Two of the guys from my Box (shout out to you both, Matt and Dave!) are there right now, doing all they can to help. I'll keep you guys updated with everything happening.
So much love.
Will share an awesome snack recipe later with you guys, but first I had to get this out. Can't say ya blame me, right?
Here's how YOU can help:
xo